Flyboard Lessons in Sosua by Caribbean Sensations
Flyboard is something that seems taken out of comic book, experience the feeling of flying over the river with one of the most innovating and exciting aquatic sports!
Learning to fly the Flyboard is much easier than you might think. Experience the newest water sport sensation with a flyboard adventure in La Boca de Yasica! You'll fly and dive with this incredible activity together with an experienced instructor certified by Zapata Racing who will show you the basics: it will take you only a few minutes to find your balance and enjoy yourself.
Flyboarding is one of the most fun water sports you'll ever get to experience. Full equipment and safety instructions will be provided for a lesson. On the beautiful Boca de Yasica River you'll strap your feet into a board connected to a long water hose, and soar above the surface like a superhero as powerful water jets propel in the air. Play the IronMan and enjoy it!
Why we love it

Experience the feeling of flying over the river with one of the most innovating and exciting aquatic sports

An experienced instructor who will show you the basics, it will take you only a few min to find your balance!

Go up, go down and turn leisurely during 20 min or more like IronMan

Activity Snapshot

ŠSport level : Beginner

†Fitness level : Everybody welcome

Duration : from 20 min to 1 hr

Languages : English, German, French, Spanish

'Cost : from 80 US$

Opening seasons:
Contact details:

Playa Sosua,
Caseta #86-87
Tel: 829-812-7569
Facebook: Caribbean Sensations by ORC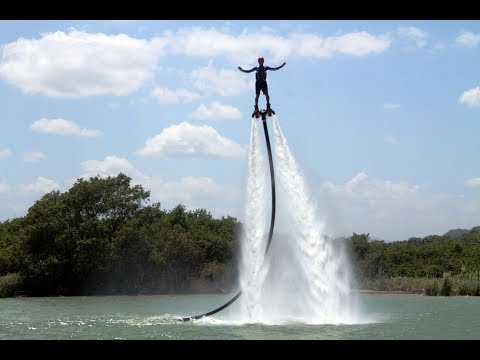 Category: DR News |