Orca whales spotted at Saona Island
Earlier this week, Alido Luis Báez of FUNDEMAR (The Dominican Foundation for Marine Research) based in Bayahibe, spotted 2 orcas in the waters off of Saona Island.
In addition to being one of the Dominican Republic's most visited tourist attractions, Saona Island in the National Park of the East is also teaming with marine life!
Saona is the most important nesting area for marine turtles in the entire Dominican Republic. Throughout nesting season, March to November, critically endangered Hawksbill turtles, as well as Green turtles and Leatherback turtles lay their eggs on Saona's beaches. Another marine mammal seen in the National Park area are dolphins, those most often spotted are the Atlantic Spotted dolphins and the Bottlenose dolphins. About 200 Bottlenose dolphins are known to visit regularly, of which 2 pods are thought to be resident in the La Romana – Bayahibe area- travelling daily to Saona Island to feed.
There are also marine manatees, flocks of Caribbean Brown Pelicans, the largest colony of frigatebirds in the entire Caribbean- found at the Bahía de las Calderas, while on land, the forest is home to the magnificent Rhinoceros Iguana.
And finally there are the whales. Although sightings are very rare, according to Rita Sellares, director of FUNDEMAR, humpback whales, pilot whales and sperm whales are occasional visitors. Which means the sighting of orcas right here in Saona Island was quiet a surprise for Alido who shot the video posted below.
Whales are not normally seen in the waters around Saona Island, and when they are seen, it is normally on route as they migrate to other parts of the world. At this time of year we may expect to see some humpback whales as they migrate from Canada to the Samana Bay to reproduce. From the mid January to the end of March Samaná bay itself is visited by more than 1,500 Humpback whales.
Check out this video to see the orcas seen off of the coast of Saona Island: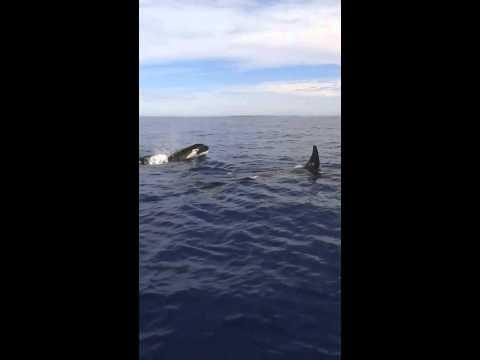 Source: Casa de Campo Living
Category: DR News |