Fire Rages In Arizona As Thousands Evacuate
Concern is growing that a massive forest fire in Arizona could damage power lines that supply electricity to hundreds of thousands of people in southwestern USA. Some 607 square miles of forest is on fire in the Grand Canyon state, forcing more than 7,000 people from their homes in the towns of Springerville and Eagar. Police have been going house to house looking for remaining residents and
marking homes with yellow tape when they have been evacuated. One lodge owner in Springerville, Daric Knight, is not leaving. He said: "I've seen lots of fires, but nothing like this."
Angie Colwell, her husband Mike and their two children loaded up their belongings as authorities ordered them out of their home in Eagar. "We love the mountains and we're just afraid of what's going to be left after the fire comes through," Mrs Colwell said.
See the latest pictures from the wildfire here
The blaze is threatening to reach electricity transmission lines which could knock out power in the neighbouring states of Texas and New Mexico and affect more than a quarter of a million users. No-one has been seriously injured in the fire which has destroyed 11 buildings, primarily in the Apache-Sitgreaves National Forest.
Thousands of fire fighters are struggling to bring the flames under control. Some have been drafted in from as far away as New York. The flames are being fanned by unpredictable and gusting winds making their job even more difficult. The cost of fighting the blaze has approached $8m (£7.2m) and that figure is likely to rise. The inferno ignited on May 29th.
Authorities believe an unattended camp fire was the cause. President Barack Obama has called the Governor of Arizona Jan Brewer and expressed concern for the people there and said his administration would do all it could to help.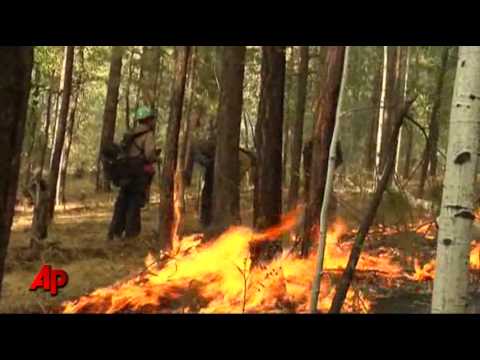 Category: World News |